Excavation work near Highway 15 between the Atwater Interchange and Wellington Street
Publié le 4 avril 2016
Over the coming weeks, we will be doing excavation work near Highway 15 between the Atwater Interchange and Wellington Street.
We will be excavating asbestos-contaminated soil in three delineated areas (see the red circles), and we will take every precaution to ensure the safety of workers and nearby residents. We have already obtained all of the necessary permits and authorizations from the appropriate authorities. The Signature on the Saint-Laurent team will apply best practices and be closely monitored by the Commission des normes, de l'équité, de la santé et de la sécurité du travail. These operations do not present any risk to the health and safety of nearby residents.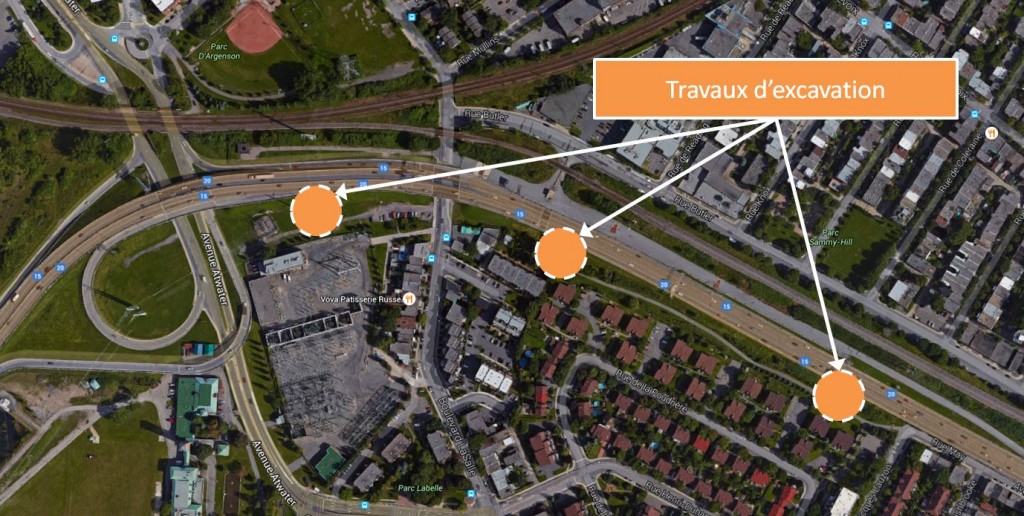 Here are the main measures in effect during the excavation work: presence of a decontamination trailer, asbestos-training certification for workers, use of protective equipment (mask, Tyvek white coveralls, gloves and boots), closing-off of work areas with fences and orange webbing, appropriate signage, and disposal of debris at a site approved by the Ministère du Développement durable, de l'Environnement et de la Lutte contre les Changements climatiques.
This preparatory work will then allow the relocation of City of Montreal water supply pipes as part of the widening of Highway 15 in this area.
Note: The New Champlain Bridge Corridor Project may require the excavation of contaminated soil in other areas. This type of work is normal during urban construction projects. It involves soil that has been contaminated over time because of the presence of former structures and railways.